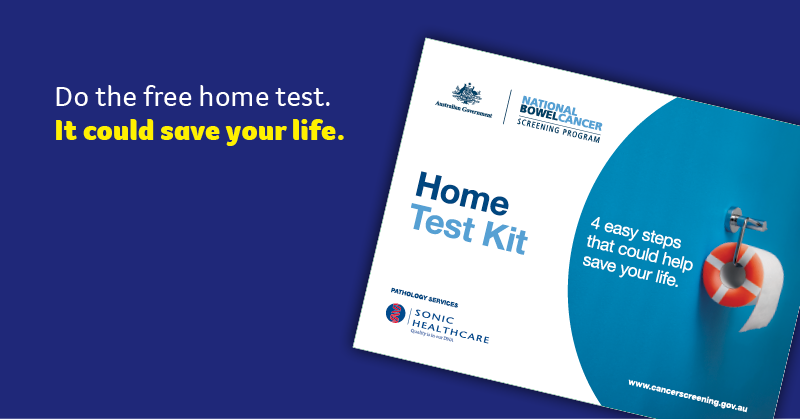 Bowel cancer claims more than 400 South Australian lives every year
Up to 90 percent of bowel cancer cases can be treated successfully if detected early. And there's a free test to pick it up early. A kit is mailed to all Australians age 50 – 74 every 2 years.
The problem is, just over half of South Australians who receive the test kit in the mail don't complete it! Don't be one of them!
Access resources from Cancer Council SA, including translated and resources for Aboriginal and Torres Strait Islander people.
There's a brief instructional video to show you how simple, quick and hygienic it is.
Prevention is by increasing vegetables and fruit. More fibre in the diet keeps things moving and is really good for the gut – Order your free healthy eating guide, or download dietary fibre resources to know what foods have the most fibre.
It's also important to remember….
If you have a family history of bowel cancer or are experiencing symptoms such as blood in stool or on toilet paper, unexplained weight loss or signs of anaemia, you should make an appointment to see your doctor as soon as you can—don't wait to receive your test in the mail or think that you're too young, as bowel cancer can happen to people under 50 as well.