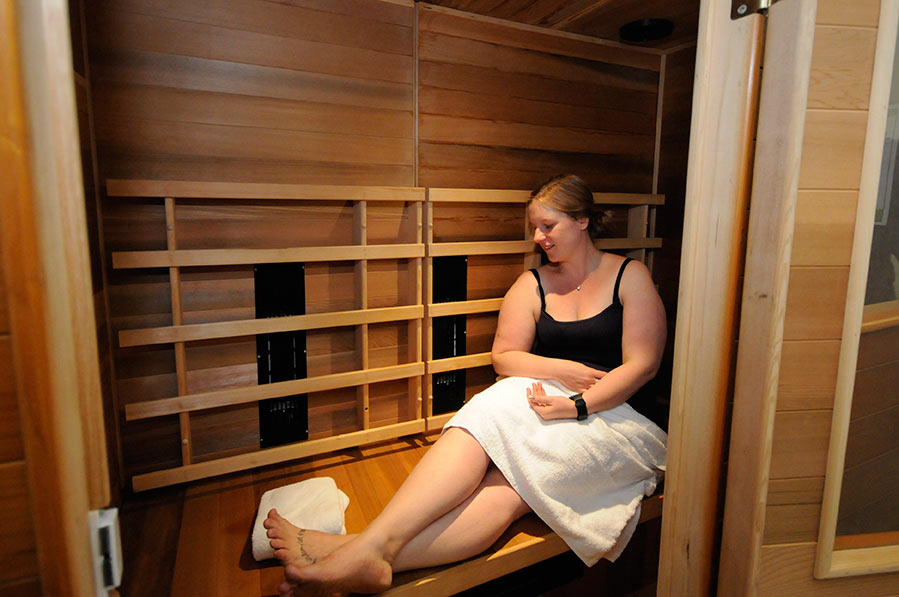 Bookings can be made for our FAR Infra-red Sauna over the phone, or online via 'our services' tab, where you will also find the fees.
Appointments can be made in 30 min, or 60 min blocks and prices are per person. We would advise to begin with 30 minutes if you have not yet tried one before.  If you feel 30minutes is not enough time, please feel free to book a 60min appointment on your next visit. A 30 min block will allow a shorter 17min cycle, allowing 13 mins to shower and  vacate the room for the following booking.  A 60 min block will comprise of a cycle up to 44 mins and 16 minutes to shower and vacate the room.
Things to remember
– The sauna is single use only and prices are per person.
– Comfortable clothes should be worn at all times.
– Towels will be provided for use.
– To please bring an appropriate amount of water for the length of time that you have been booked.
– Please be considerate of hygiene and shower before and after your sauna.
– Please be considerate of others and vacate the room as appointed, late departures may be charged.
What to expect
– This is not a traditional sauna that relies on high temperatures to achieve results.
– The sauna will generally be at room temperature when you begin your session.
– Infrared is optimal at lower temperatures than traditional saunas.
– Infrared saunas aim to get infrared into the body, not have high heat on the body.
– They aim to raise your core body temperature to elicit a deep cleansing sweat.
– The lower ambient temperatures in infrared saunas help you feel at ease and not overwhelmed, or
heat stressed.
– This sauna charge is per person and for single use only. Please speak to our team if you
require a carer to accompany you for assistance, or to ensure your safety.
Far Infrared Sauna may provide benefits such as:
Improved Circulation,
Detoxification
Reduced Blood pressure
Weight loss
Cellular Health
Improved immunity
Pain relief
More information regarding contraindications and cautions can be obtained from our friendly reception team.