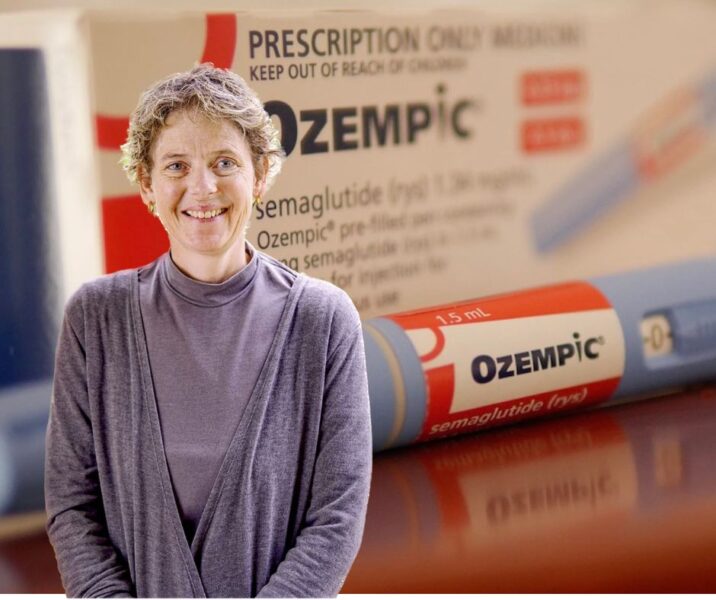 Semaglutide (Ozempic)- Lets Weigh In
Kirrily Chambers Pharmacist (B Pharm) CDE
Adv Diploma Nut Pharm,
Grad. Dip. App. Pharm. Prac
What is Semaglutide?
Semaglutide (Ozempic) is a once-a-week injection that helps individuals diagnosed with type 2 diabetes manage glucose levels. It belongs to a class of medicines called the GLP1 receptor agonists which help produce more insulin when glucose levels are above the healthy range.
Why is there such a demand for Ozempic?
Ozempic works by mimicking a naturally occurring hormone to help lower blood glucose levels in those diagnosed with type 2 diabetes. As these hormone levels rise, signals go to the brain, telling a person they are satisfied and do not need to keep eating. It also slows digestion by increasing the time it takes for food to leave the body. This is like the effect of bariatric surgery. Not only does semaglutide therefore have a positive effect on glucose levels, it also has a side effect of weight loss.
When videos about achieving rapid weight loss with Ozempic went viral on TikTok, the trend was also reported online and across other media. This triggered a huge demand for the product that the manufacturer was not prepared for, and it quickly developed into a worldwide shortage. The TGA has been working with Novo Nordisk (the manufacturers of Ozempic), pharmaceutical wholesalers and organisations representing health professionals and individuals to manage the shortage of Ozempic since April 2022.
Why is Ozempic not Approved on the PBS for Weight Loss?
For a medicine to get a Pharmaceutical Benefits Scheme (PBS) listing for a particular use – known as an 'indication' – such as for managing weight, the pharmaceutical company that makes it must apply to have the indication added to the medicine's Product Information.
When assessing a medicine for a proposed PBS listing, an independent expert advisory body known as the Pharmaceutical Benefits Advisory Committee (PBAC), must consider the safety as well as the clinical and cost effectiveness of the medicine, including comparing it to alternative treatments. Pharmaceutical companies are private entities that make their own decisions on the availability of their medicines.
Individuals who need Semaglutide for Other Medical Conditions
The TGA and health professionals acknowledge the importance of treating weight and preventing the comorbidities and complications associated with it. When the Ozempic shortage started, the TGA worked with health professional groups who assessed which individuals are most likely to be at risk if they do not have access to Ozempic when it was available. It was decided that generally the risk is higher in those who are diagnosed with diabetes, and it was recommended that those who need Ozempic for weight loss should use other forms of treatment until the shortage is over. Unfortunately, the shortage of both Ozempic and other alternative medicines including Trulicity (dulaglutide) has been ongoing and a source of distress for many individuals. This shortage is now expected to continue into 2024.
What about Wegovy?
The pharmaceutical company that makes Ozempic also makes Wegovy, a brand of semaglutide indicated specifically for 'chronic weight management, as an adjunct to a reduced-energy diet and increased physical activity when specific criteria are met'. Wegovy has been registered on the Australian Register of Therapeutic Goods (ARTG). It should be noted however, Novo Nordisk has not advised when this product will be launched in Australia.
While Ozempic and Wegovy contain the same active ingredient (semaglutide) they have different approved indications and uses, as well as different dosages and devices. As such, Ozempic and Wegovy are not interchangeable.
What if I am unable to get Semaglutide?
Pharmacists have been encouraged to prioritise supply of Ozempic for those who have been prescribed it for the approved treatment of type 2 diabetes.  If this is you and you are not able to fill your prescription please speak to your health care team.
If you have previously been prescribed Ozempic 'off-label' on a private script, please be aware that health professionals have been asked to direct current supplies of Ozempic to people with type 2 diabetes. While unfortunate and distressing you may not be able to fill a private prescription for Ozempic until after the shortage is anticipated to end on or after 31 December 2023).
You can make an appointment with Kirrily Chambers either online or by calling our friendly reception staff on (08) 7231 1628.