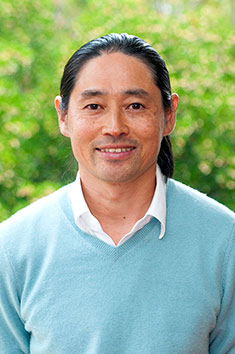 Acupuncturist
Chronic and Acute Pain management, Neuromuscular pain, Women's hormonal balance, Headaches, Cancer treatment management, stroke rehabilitation, Parkinsons, MS, autism and other internal disorders, Anti-Aging, Cosmetic
Registered Acupuncturist – BHSc, Acupuncture
Pain management, Neuromuscular pain, Women's hormonal balance, Headaches, Cancer treatment management and Other internal disorders
Junji came to Australia in 2001. Prior to completing his acupuncture degree, he studied a diploma of Remedial Massage and Shiatsu & Oriental Therapies and established his private clinic in over 10 years. He studied acupuncture in Japan, Australia and Ireland.
Dr. Tan Richard Teh fu Tan (who passed away in 2015), trained Junji in his body balance method (BM). Dr. Tan was widely recognised and respected throughout the world within acupuncture circles. This BM technique involves using points other than the one which is close to the area of pain. For example, shoulder problems can be treated using acupuncture points around the ankle which avoids causing additional inflammation around the affected area. This method is very different in theory, practice and results of dry needling. Using points that are distal to the affected area clients do not need to take off their clothing as most points used are on the legs, arms and scalp.
Since using Dr. Tan's teachings, Junji's clients receive immediate results and show very successful results in pain management, neuromuscular pain, women's hormonal balance, headaches, cancer treatment management and other internal disorders.
Community acupuncture treatments (group session) are another skill that Junji has, which is a cheaper treatment price than a private session. This option is suitable for those who need several sessions per week or those who have financial difficulties.
Junji's other passion is cooking and eating healthy food. He cooks all food from scratch and doesn't use any artificial flavouring, chemical spices, microwaves or Teflon frying pans. Junji is happy to discuss dietary issues with you at your appointment.