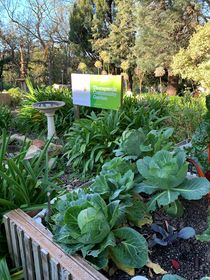 Cherington Therapeutic Community Garden
Update No. 5 for October Spring
Hope everyone is enjoying Spring in your gardens, it is such a beautiful season with its abundance and high energy of growth – be it your favourite vegetables or the weeds around them!
At Cherington, good harvests of nice quality veg have been happening & being sold to Integrative Health Solutions staff. In the Garden, lovely, new water plants were added to the Frog Pond, thanks to Karen.
The Garden Morning last week became an important discussion and meeting time and in a sense it was another form of 'harvesting' – that of ideas!
We are very pleased to welcome Chris Lambert to the Garden. Chris, has a social work background, & so brings possibilities of new connections with community groups and organisations that may appreciate the therapeutic benefits that the Garden offers. As Chris was seeing the Garden for the first time, it was useful to have fresh perspectives on the potentials and possibilities.
So, the discussion flowed with Karen, with her Community Health background and Sue, with her herbalist experience, along with Erica, Pam and Rosemary, all with passionate garden experience as well as deep interest in the health & therapeutic aspects ….all contributed to a very exciting and productive conversation ….. and incredibly accompanied by Nature in full force, as the forecast storms broke all around and thunder crashed overhead ( we had taken refuge up on the verandah as the rain started falling !! )
This marks an important turning point in the Garden development – until now the focus has been on the establishment of the Garden as a productive food garden. Now its time to focus on developing more fully the Therapeutic aspect of the Garden…..
Some ideas being :-
• creating a Zodiac Garden,
• Medicinal Herbs for harvest,
• water garden,
• utilizing the various unused spaces as garden 'rooms' that enable things like meditation, small group sessions,
• kids activities,
This week's Morning in the Garden – 6th October 10am – 12noon
Will continue the discussions and plant some more new season crops to keep the productivity flowing. Join us if you can – all welcome
Breaking news this week:-
Cherington Garden has been invited to participate as an open garden as part of the Open Garden Scheme HARVEST FESTIVAL to be held in Feb 2022
This is an exciting opportunity to connect with Community …..
Plans will be made in our discussion meetings.
The October workshops are coming up and are part of the 'Garden for Health' programme
that provides the Therapeutic workshops
Which has 'grown' from the original & long run 'Seeds for Health' programme
that has & will continue to provide the practical gardening workshops.
The workshops are attracting interest, so make your bookings if you are interested.
Friends of the Garden are welcome at no cost.
HERBS FOR NERVES – Wednesday 20th October 10am – 12.30pm
Presenter – Lily Graham Professional Gardener with passion for Herbs
with special guest – Sue Lohmeyer Dip. Herbal Medicine Herbalist & Natural Health Mentor
A workshop exploring self care through healing herbs in an ever changing world.
An introduction into growing, working with and processing several restorative and calming plants.
An open conversation, followed by a demo on preparing
simple tinctures, teas and oxymels for the home apothecary.
Cost: $45.00 Members of CCC $30.00 – Bookings Ring CCC 8272 2411
– – – – – – – – – – – – – – – – –
GARDENING for GUT HEALTH – Wednesday 27th October 10am – 12.30pm
Presenter:- Remedy Bliss Renowned Raw & Fermented Food Instructor
Allow Remedy to introduce you to the practical art of FERMENTATION.
What are some of the key veggies or herbs to plant for those who wish to FERMENT?
How does our own 'GUT GARDEN' parallel so closely to our VEGGIE GARDEN
or external LANDSCAPES.
Did you know that BIODIVERSITY inside our GUT GARDEN is as important as
BIODIVERSITY on the PLANET?
And did you know that CHOOKS love Fermented veggies!
This will be an interesting & delicious presentation!!
Cost: $45.00 Members of CCC $30.00 – Bookings Ring CCC 8272 2411