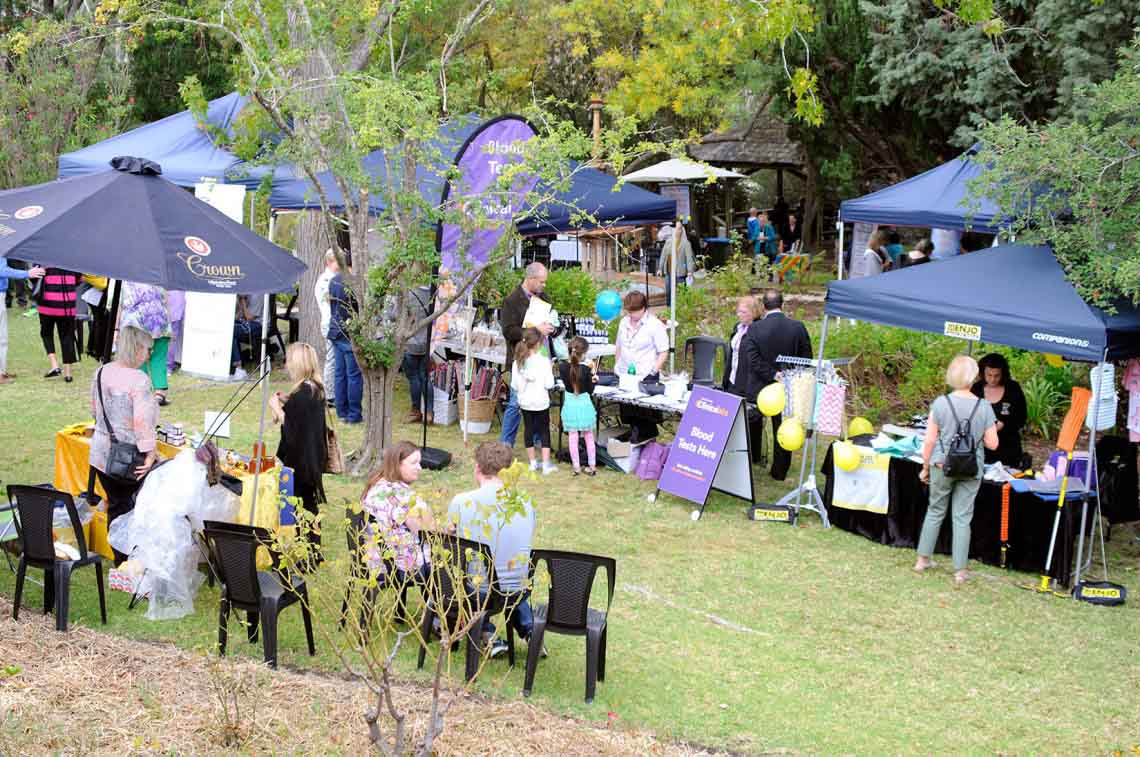 Integrative Health Solutions is pleased to be hosting our 4th annual Health & Wellness Market!
Come along on Sunday 17th November, 2019 from 10:00am – 16:00pm.
Our annual open day has been established to provide an opportunity for the public to explore and experience different treatments and modalities, at no cost. Our practitioners will be on hand to provide treatment trials, information and education about what they do and how it can help.
Integrative Health Solutions is proud to support local producers. Come along and be entertained by the music of Andy Salvanos, while you explore 40 diverse stalls including some fabulous tastings & gifts. Their will be some talks and demonstrations running throughout the day. Stay tuned to this page and our Facebook page for stall holder, event and timetable updates.
This is an outdoors event and an opportunity to stroll through our gardens and enjoy a leisurely day in the sunshine. While you are here, check out the progress the Cancer Care Centre and CanTeen have made with the Community Garden! We look forward to another fantastic day in the sunshine, meeting you all 🙂
OUR STALL HOLDERS FOR 2019 INCLUDE:
INFINITY COMPOUNDING & WELLNESS PHARMACY 
Our favourite pharmacy will be on hand with a fabulous range of locally made products!  Come along and meet the team, pick up a loyalty card and check out their fantastic range.
FARMHOUSE PANTRY ~ GLUTEN FREE
Nici will return this year with her delicious range of home made gluten and dairy free meals, snacks and deserts!
https://www.facebook.com/Farmhouse-Pantry-gluten-free-236263369829465/
ALEX'S HANDMADE SOAPS
We are thrilled to have Alex's Handmade soaps joining us again this year.
They offer Cruelty-free cleansing, using coconut, sunflower, soy and castor oils. They are filtered using rainwater and infused with essential, or fragrant oils, or a combination of both.
These products are cold process to retain naturally moisturising glycerine. The bars are stored on racks to air and complete the curing process for a minimum of four-weeks. They are coloured using natural clay's and each bar weighs a minimum of 100 grams.
REGENIC AUSTRALIAN ORGANIC SKINCARE
We are so pleased to have Peter & Anthony of Regenic Australian Organic Skincare, joining us again this year.
Come along and try out their skin care range for yourself.
https://www.facebook.com/RegenicAustralianOrganicSkincare/
SHUNGITE GYPSY
It is fantastic to have Shungite Gypsy back with us again this year! Come along and say hi to Kerry, find out more about their range of products & stock up on some Christmas gifts 
🙂
https://www.facebook.com/shungitegypsy/
SUNRAYIA SPIRITUAL OASIS
If you are in need of a new salt lamp, selenite lamp, or other Himalayan salt products, come down and see Dawn for some fair specials! She can also help you with replacement cords & bulbs. We are pleased to have her return this year with her fantastic range of products, just in time for Christmas! https://www.facebook.com/sunrayiaspiritualoasis/
BUILDING BIOLOGY SA
Rick will be coming along to answer any questions you may have about possible environmental exposures in your home. He also offers house inspections. Find him on fair day for a chat. https://www.facebook.com/buildingbiologysa/
MUMMA'S OWN
Mumma's own offers laundry powder that is designed to be chemical & fragrance free, GAPS friendly and made with all natural ingredients. You can view the range & have a chat with it's creator, Sonia Tzerefos on fair day! https://www.facebook.com/mummasown/
DR HAUSCHKA AUSTRALIA
Come along and try the Dr Hauschka make-up & skin care range. Josie will be on hand to demonstrate their products & offer free mini make-up consultations. Enjoy their fair day specials and make sure you grab a ticket to go in the draw for their fabulous hamper.
Dr Hauschka offer a 100% natural and/or organic skin care and make-up range, that is NATRUE certified. Free from synthetic chemical fragrances, colours or preservatives, mineral oils, parabens, silicones and PEG's. Their products are cruelty free, socially responsible and ethical.
https://www.facebook.com/DrHauschkaAUS/
BIRKY'S FINE FOODS
Birkys Fine Foods produce gourmet, local, preservative and additive free products to accompany a cheese platter. Made by French head chef, Scott Bircumshaw. If you have not yet had the pleasure, come along and try their delicious range for yourself. They are manufactured locally, right here in Belair.
Birky's fine food menu includes: French Pate, Beetroot Relish, Pork Terrine, Piccalillie, French Lavosh Bites and Dukkah.
https://www.facebook.com/Birkysfinefoods/
GRUND'S GOURMET
Get ready to try this fabulous range of locally made sauces, relishes, chutneys and rubs! Grunds Gourmet are gluten & preservative free, vegan friendly and produced right here in Belair. Their diverse range of products will delight your taste buds! Make sure you stop by and say hello to Taris and the team at Grunds Gourmet, on fair day!
https://www.facebook.com/grundsgourmet/
LIQUID DELIGHTS
The fair would not be possible without the fantastic team at Liquid Delights, feeding us coffee 😂 and we are delighted to have them back this year! Not only do they make delicious tea and coffee with several milk options, but they also make amazing milkshakes, smoothies, spiders and pancakes.
https://www.facebook.com/LiquidDelightsCoffee/
AUSTRALIAN WHEATBAG STORE
The Australian Wheatbag Store will be coming along for the first time this year and we are excited! Just in time for Christmas, they sell a fantastic range of hot and cold wheat bags. Whether you need a wheat bag for your neck, shoulder, back, waist, eyes, hands or feet, they have you covered. Made right here in Adelaide, they offer a huge range of both scented and fragrance free wheat bags.
If that wasn't enough they also stock hot water bottle covers, bath salts, caps, individual fragrances, cool succulents and eco friendly food wraps. We can't wait to check these products out!
https://www.facebook.com/AustralianWheatbags/
JUICE INSTITUTE
We are so pleased to have the Juice Institute joining us this year! Established in 2018, they are proud to press and pour their juice by hand, right here in Belair. Not only do they take the mess and the fuss out of juicing but they always create detailed recipes, deep flavours, naturally coloured, delicious tasting cold pressed juice. Their range also includes hand crafted cleansers, cold pressed nut mylk and signature blends.
They select only the freshest produce, support local farmers, use organic produce where possible and fresh herbs from their garden. Their products are beautifully presented in earth friendly glass, using paper straws, biopak packaging and they continue to be an innovative eco friendly local business.
BALANCE AND BEYOND
Allow some extra time to see Helen Wright during the fair, if you would like a spiritual reading. Helen is an experienced clairvoyant and medium and will be available for consultations from 10.00am to 4.00pm. Some pre-bookings may be made available early in the day, so stay tuned for more information & to book those times. https://www.facebook.com/Helen-Wright-Clairvoyant-806106229406654/
EMJAY DESIGNS
Founded in 2004, Emjay Designs offers a variety of unique Gemstone and Costume Jewelry. Each piece has been lovingly designed, assembled, and finished to the highest standard of Adelaide, South Australia. https://www.facebook.com/Emjay-Designs-446969048651963/
INNER ORIGIN
Inner Origin is an alternative marketplace for healthy and innovative products that embody the fundamentals of wellness, abundance, and community. Inner origin shares an uncompromising commitment to the concept of #TruthOnLabel and providing a sustainable, clever shopping experience. Come on down November 17th from 10:00am – 4:00pm to explore their exciting product range! https://www.facebook.com/InnerOriginAustralia/
CANCER CARE CENTER / CANTEEN
We are pleased to announce that a community garden is now being established on our grounds, surrounding what was previously the former Blackwood Hospital. The Cherington Garden is about to become a therapeutic community garden! The aim is to create a sustainable organic food garden and develop regular workshops and programs, demonstrating the benefits and importance of health & well-being through organic gardening.
The project is being run by Diana Bickford and has been designed in collaboration with Sophie Thomson, of Gardening Australia. It is a well-being initiative of the Cancer Care Centre & CanTeen and is being supported using a special project grant from the Mitcham Council.
Come along and show your support by buying a seedling. All proceeds will be donated to the Cancer Care Center.
FLORENCE AND SAGE WHOLE FOODS
SARAH TRANGMAR – MASSAGE/BOWEN THERAPY
"I believe that touch therapies, used with insight and in
co-operation with medical treatments, can greatly enhance the well being of the patient."